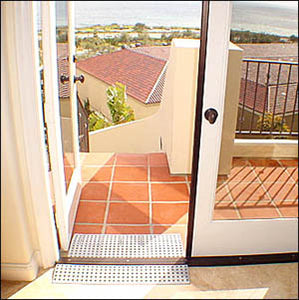 Threshold Ramp - Lego Style
Lego-style threshold ramps are very lightweight, allow water to flow through, and can be used on both the inside and outside of the doorway for easily rolling over the threshold.
These are sold as one threshold ramp per order. Order two if you need them for both sides of the doorway.
(.75-inch and 1.5-inch Thresholds)
Shown here with two Threshold Ramps -one on each side of the doorway
Lego-style Threshold Ramps
(.75″ to 1.5″ Thresholds)
Available for .75-inch to 1.5-inch thresholds
Very easy to install
Accommodates most doorway entrances including sliding doors
Non-slip surface
Effective way to make doorways more accessible
300 lb. weight capacity
Platform-style lego ramps

 

can also be used in the bathroom