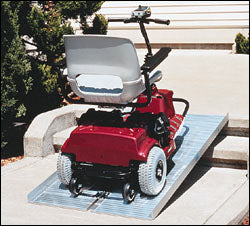 Portable Suitcase Ramp
(2 feet to 6 feet)
To use, simply unfold the hinged suitcase ramp and position accordingly for maximum safety and support. Its single-fold design sets up quickly and folds in half lengthwise to be carried like a suitcase when not in use.
Features a convenient handle and extruded, non-skid driving surface. Made of aircraft-grade aluminum.
Suitcase Ramp in 2, 3, 4, 5 or 6 Foot Lengths
29-inch width
Light weight all aluminum construction
Works great for wheelchairs, scooters, or walkers
Portable design fits in trunk to be transported to different locations
Can be folded for easy storage when not in use
Handle for easy carrying
Non-slip surface
Supports up to 600 lbs
Watch a Portable Suitcase Ramp Video
All Suitcase Ramps listed are 29-inches wide