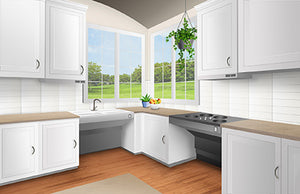 Designer Height Adjustable Electric Kitchen Sink
Raise and lower your kitchen sink at the touch of a button to accommodate a wheelchair
Elegant Design
Another highly functional design option that allows for easy to use sinks
At the touch of a button on the counter, the kitchen sink lowers down making it easier to use the sink.
When finished, simply touch the button again and the sink moves back into its original position.
Height adjustable sinks can be used by anyone in a wheelchair, seniors that have trouble reaching, or even children..
Raise or Lower the Kitchen Sink at the Touch of a Button
We can perform the entire installation for you in your home. If you are a contractor or have a contractor that will be doing the installation for you, the motor and flexible drain pipe and clamp kit can be ordered through our web site by using the button below.
(Motor and flexible drain pipe and clamp kit Only)